Development and Validation of the MNA®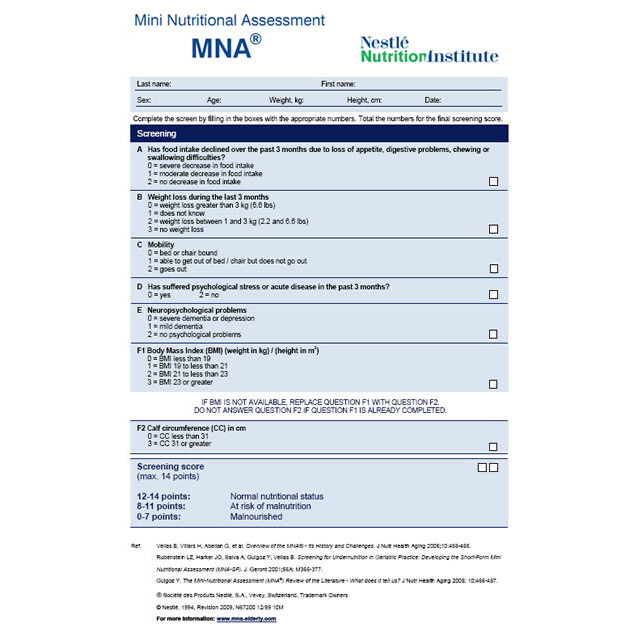 The MNA® was originally developed in the 1990's and has evolved over time through three versions.
Original full MNA
The original MNA® was developed by practicing geriatricians in the United States and Europe. It was developed to provide a simple, reliable way to screen nutritional status of persons over age 65 and to add a nutrition component to the Comprehensive Geriatric Assessment. The full MNA® has 18 items and classifies one as normally nourished, at risk for malnutrition, or malnourished. It was well validated in the hospital, community and long term care settings. 14
The MNA®-SF and full MNA: A 2-step process
To save time in screening, Rubenstein et al developed a shortened version, the Mini Nutritional Assessment®-Short Form or MNA®-SF in 2001, and created a 2-step screening process. Six questions with the strongest correlation on the original MNA® comprised the MNA®-SF.  The short form was validated in the ambulatory care setting as a quicker way to screen large groups of people and eliminated the need to complete the full MNA® when a person was normally nourished.  When the MNA®-SF classified a person at risk, the full 18-question MNA® had to be completed to determine if the person was truly malnourished.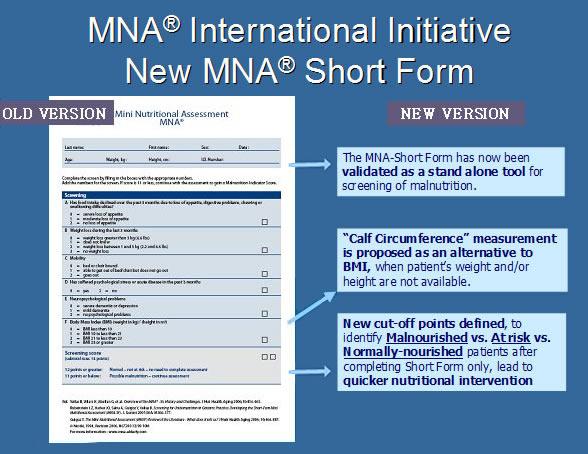 Revised MNA®-Short Form
To further streamline the MNA® and make it more clinically applicable, researchers revised and revalidated the MNA®-SF using pooled data on the MNA® from 28 previously published studies. The new MNA®-SF incorporates the 3 cut-off points for nutritional status from the full MNA®, thus allowing the identification of those who are malnourished with just 6 questions. The new form also includes an option to substitute calf circumference when BMI is not available. With the revisions, the new MNA®-SF is a stand-alone screening tool, eliminates the need to complete the longer full MNA®, and reduces time to screen to less than 5 minutes. 420
Indications for Use
The revised MNA®-SF makes the link to intervention easier and is now the preferred form of the MNA® for clinical use.
The full MNA® is useful in research settings. The full MNA® can also be used as a more in-depth screen.
Both the MNA®-SF and the full MNA® are nutrition screening tools. 
Neither should substitute for a complete nutrition assessment by a qualified nutrition professional.