MNA® as part of the Comprehensive Geriatric Assessment (CGA)
The Comprehensive Geriatric Assessment (CGA) is a multidimensional, multidisciplinary diagnostic process used to determine medical, functional, and psychosocial problems and capabilities in an elderly patient who may be at risk for functional decline.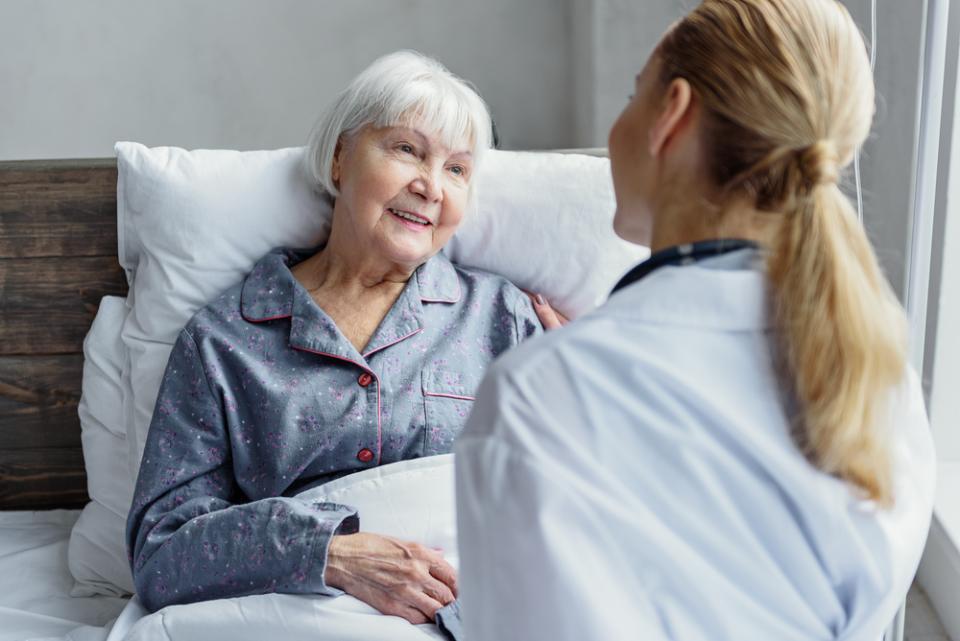 The Comprehensive Geriatric Assessment (CGA) is designed to
Evaluate the multiple problems of older persons
Assess their personal resources and strengths
Determine service needs
Develop  coordinated care plans to focus interventions on individual problems
Corrective intervention
Improves health outcomes
Prevents the onset of disability
Improves quality of life
Saves healthcare costs 39
CGA of overall health status begins with a screening process using simple, rapid, inexpensive, and internationally validated scales to rate cognitive function, functional status, walking, balance, and socio-economic status.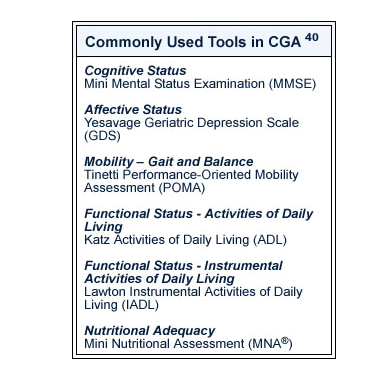 CGA should also include a nutritional assessment since functional dependency and decreased general health status or quality of life correlate with poor nutritional status in older adults. 41
Prior to 1990, CGA did not include nutrition due to the lack of a validated and easily administered tool to evaluate nutrition in the elderly. The development of the Mini Nutritional Assessment (MNA®)19 in 1994 and a shorter screening form (MNA®-SF)18 in 2001 provided healthcare professionals a validated tool to identify the elderly at risk of malnutrition and guide nutritional intervention. Now, with the revision and validation of the MNA®-SF as a stand-alone screening tool in 2009, clinicians can quickly identify those who are malnourished or at nutritional risk in less than 5 minutes.
Overall Elements of Comprehensive Geriatric Assessment
Physical Health
The medical history focuses special attention on medication use and the risk for malnutrition, falling, incontinence, and immobility.
The physical examination seeks to identify specific diseases or conditions for which curative, restorative, palliative, or preventive treatment may be available. Special attention is directed toward visual or hearing impairment, nutritional status, and conditions that may contribute to frailty and falling or difficulty in ambulation.
---
Mental Health
Cognitive, behavioral, and emotional statuses are evaluated, with particular emphasis on detecting dementia, delirium, and depression.
---
Social and Economic Status
The social support network includes the availability and competence of caregivers, the elderly person's economic resources, and other sources of support such as cultural, ethnic, and spiritual resources. It also includes the individual's own assessment of the quality of life. 
---
Functional Status
Functional status is measured by the ability to accomplish basic activities of daily living (ADLs) and to participate in behavioral and social activities referred to as instrumental activities of daily living (IADLs). ADLs include bathing, dressing, toileting, transferring, continence, and feeding. IADLs require a higher level of cognition and judgment than physical activities and include preparation of meals, shopping, light housework, financial management, medication management, use of transportation, and use of the telephone. 
---
Environmental Characteristics
Evaluating the patient's physical environment determines the safety of the living environment. It also assesses the patient's access to essential services, such as shopping, pharmacy, and transportation.