Identifying Malnutrition - MNA®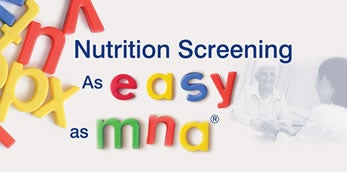 Weight loss in the elderly is not inevitable. Effective prevention and nutritional support exists. Early detection and prompt treatment are essential in preventing malnutrition. In those who are already malnourished, treatment may reverse malnutrition and effectively reduce mortality and complication rates. 560 Early detection, therefore, becomes crucial in the elderly. The MNA® was specifically developed and validated to identify the elderly who are malnourished or at risk of malnutrition, so intervention can be started early. All persons over age 65 should be screened annually because malnutrition occurs so commonly in the elderly.
Why use MNA® as your preferred nutrition screening and assessment tool?
Targets the frail elderly and at-risk geriatric population
Identifies the malnourished so intervention can begin immediately
Identifies at-risk persons before weight loss occurs and serum protein levels fall, and facilitates earlier intervention when response is most successful 20, 21
Includes criteria specific to issues of ageing – functionality, depression, dementia 22
Identifies at-risk persons before other validated nutrition screening tools do 330
Identifies those who may respond to treatment
Not only identifies people who are at nutrition risk, but allows healthcare professionals to target intervention to specific causes of malnutrition 23 as identified in the MNA®.
Predicts poor outcomes in the elderly
*Organizations recommending the MNA®
American Dietetic Association (ADA) Evidence Analysis Library
American Society for Parenteral and Enteral Nutrition (A.S.P.E.N.)
European Society for Parenteral and Enteral Nutrition (ESPEN) 16
American Medical Directors Association 462
The International Academy of Nutrition and Aging (IANA)
The Hartford Institute for Geriatric Nursing
The Nurse Practitioner's Guidelines for Long Term Care
The National Pressure Ulcer Advisory Panel (NPUAP)